Sweet corn, courgette and tofu fritters with chive yoghurt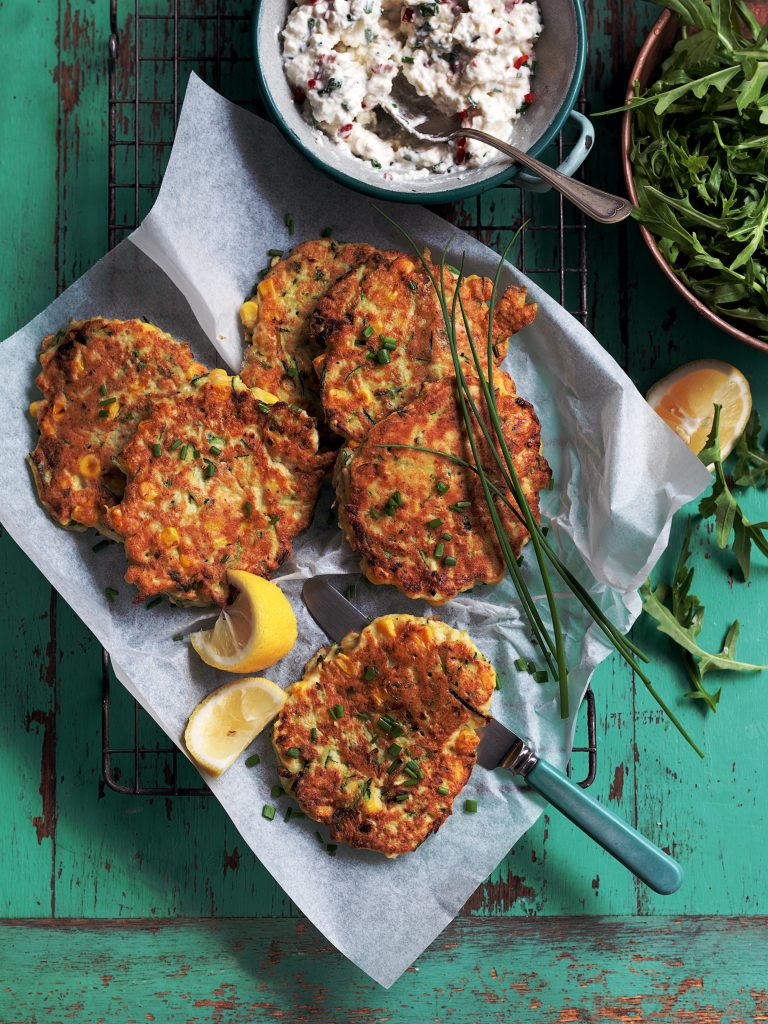 Make a batch of our low calorie vegetarian sweet corn, courgette, and tofu fritters with chive yoghurt, high in calcium, fibre and iron, diabetes friendly with an easy gluten free option, so moreish they disappear in seconds!
Instructions
Whisk eggs in a large bowl until well combined. Slowly whisk in flour until smooth. Add mashed tofu, corn, courgette, 2 tablespoons of the chives and 2 teaspoons of the lemon zest. Stir until well combined; season with cracked black pepper.
Heat half the olive oil in a large non-stick frying pan over medium-high. Add 3 x 1/3-cups of mixture to pan and cook fritters for 2-3 minutes each side, or until golden and cooked through. Repeat with remaining batter to make 12 fritters in total, adding remaining oil as necessary.
Meanwhile, combine chili, cottage cheese, remaining chives and zest in a bowl. Serve fritters topped with a dollop of cottage cheese mix and rocket.
Variations
You can use fresh, frozen or canned corn kernels in this recipe.
Make it gluten free: Use gluten-free flour and check tofu is gluten free.
Kilojoules 1370 kJ
Calories 330 cal
Protein 21 g
Total fat 13 g
Saturated fat 3 g
Carbohydrates 30 g
Sugars 4 g
Dietary fibre 8 g
Sodium 440 mg
Calcium 300 mg
Iron 5.5 mg