Tacos with beans, chicken and corn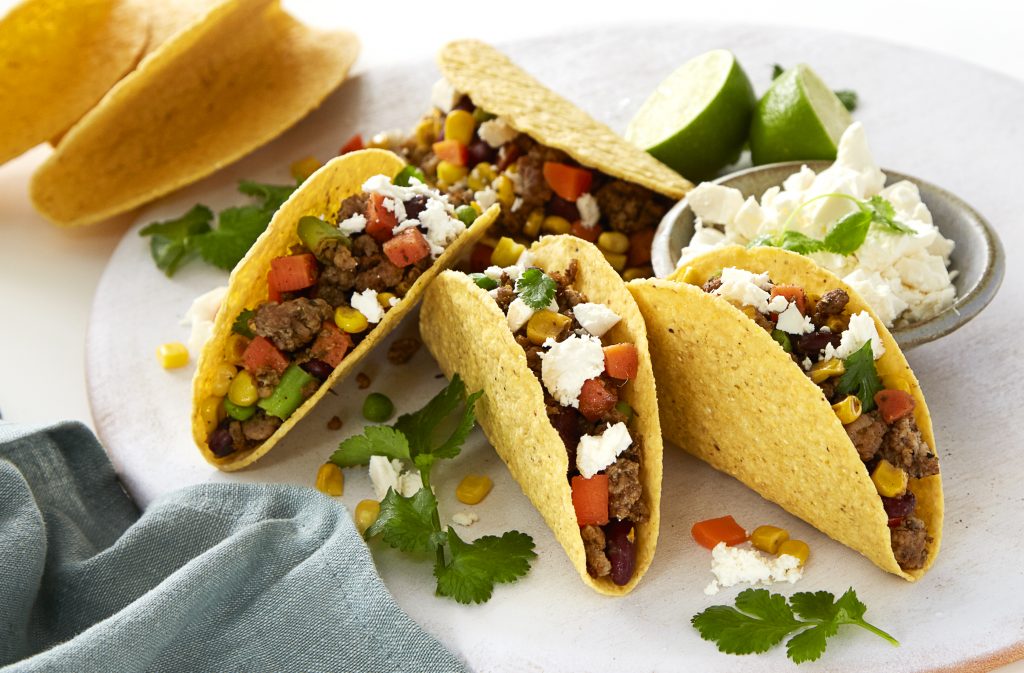 Serves: 4
Time to make: 30 mins
Ingredients
oil spray
500g chicken mince
1 cup frozen corn
3 tablespoons Mexican spice
400g can red kidney beans in spring water
 1 cup frozen mixed vegetables
8 corn taco shells
1/2 cup crumbled feta, to serve
 4 tablespoons fresh coriander leaves, to serve
lime wedges, to serve
Kilojoules 1970kJ
Calories 470cal
Protein 40g
Total fat 17g
Saturated fat 6g
Carbohydrates 35g
Sugars 4g
Dietary fibre 11g
Sodium 780mg
Calcium 180mg
Iron 3.5mg
Instructions
Preheat oven to 200°C.
Spray a saucepan with oil and set over a medium heat. Add chicken mince and cook, stirring occasionally, for 10 minutes until nicely browned.
Add corn and spice and cook, stirring, for 2 minutes. Add kidney beans and frozen veges and cook, stirring, for 5-8 minutes.
While beans and vegetables cook, in the oven heat taco shells according to packet instructions.
To serve, spoon the chicken mix into the tacos, top with feta, coriander and squeeze over lime juice.
Variations Make it gluten free: Check Mexican spice is gluten free.
Thank you to Healthy Food Guide for the recipe.